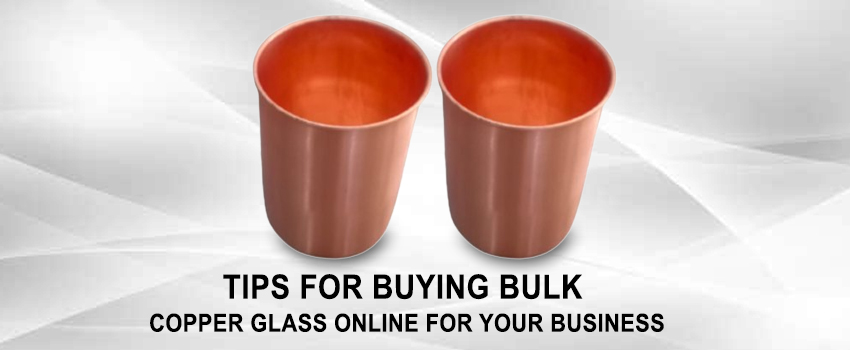 Copper glasses are the ideal alternative for drinking water for the Ayurvedic lifestyle which offers several health benefits. Coppers are an element that aids in killing bacteria and balancing out our bodily doshas. Copper glass ensures that water stored retains freshness over a long duration. Hence copper glass usage has become popular as people are embracing healthier lifestyles for their overall well-being.
Copper glasses are also selling like hotcakes in online and offline stores. As a small business owner looking to buy copper glasses in bulk follow the given tips for the best deal.
Opt For A Certified Copper Glass Exporter
Copper glass from certified copper glass exporters will ensure high-quality products every time. Copper glasses can only provide health benefits if the glasses are authentic. Certified exporters of copper glass have years of experience in the field and guarantee genuine products for your business. These experts will provide you with a quality that you could trust made of solid copper.
Money Back Policy
Although you can easily find several copper glass suppliers and exporters online, not all of them sell quality products. Therefore, opt for a copper glass exporter that offers a money-back policy in case the product is of inferior quality. The money-back policy speaks volumes about the copper glass supplier or exporter's trust in its product quality.
Customer Support
Customer satisfaction should be the priority for the copper glass supplier or exporter. Hence, choose an exporter or supplier that provides good customer support to ensure your business growth. Having good customer support will aid you to deliver urgent or bulk orders for your businesses without much hassle.
Cost
As a business owner, you understand that a small difference in price can have a huge impact on the cost of bulk orders. You should compare prices of copper glass set online from various suppliers and exporters to get great deals and discounts on bulk ordering.
Sizes And Sets
You must also ensure your supplier or exporter about the availability of varying sizes and set pieces of copper glass. It will allow you to cater to your business's diverse customer base. The more choices of copper glass set and sizes the supplier or exporter offers the better it is for your business. You could also opt for a standard copper glass set of four or six pieces.
Food- Grade Packaging
It is vital for high-quality copper glasses to be packaged in food-grade packaging. Many copper glass suppliers and exporters provide copper glass in food-grade packaging to ensure safe consumption.
To conclude, finding a good copper glass supplier or exporter online could be a difficult job. However, once you have found the right supplier or exporter, you can a long-standing relationship with them. You could also enquire about your copper glass supplier or exporter about other benefits on bulk orders like free delivery or return policy.
As a business owner, you could also highlight the benefits of using copper glass daily to entice customers into buying one. Copper glass orders are rising in demand and every day new customers are added to the list. Thus, having such a popular product will ensure your business growth.