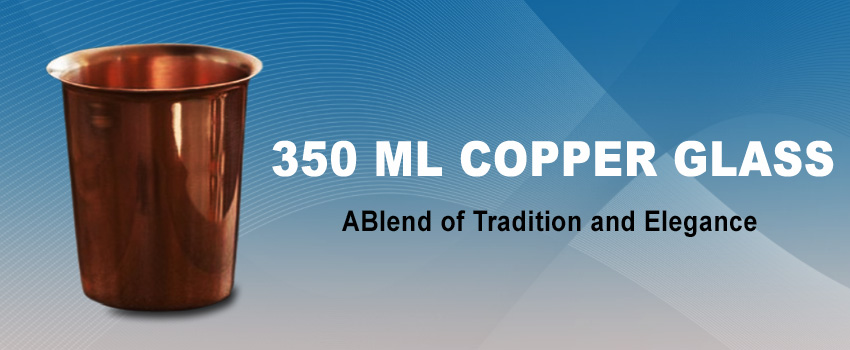 350 ML copper glass is an embodiment of timeless craftsmanship with modern aesthetics. It offers a unique and elegant way of enjoying your favourite beverages. Copper glasses have been utilised for generations not only because of their aesthetics but also because of their potential health benefits. This article delves into the allure of the 350 ML, copper glass and the significant role of 350 ML Copper glass manufacturers in crafting these exquisite pieces of functional art.


Understanding the 350 ML Copper Glass
As the name suggests, a 350 ML copper glass is made from high-quality copper. It is a combination of the aesthetic appeal of copper with the practicality of a glass which results in a vessel that is both functional and beautiful.


Know the Key Characteristics of 350 ML Copper Glass
The 350 ML copper glass is a popular item in many households and has been cherished for generations.

Material: These glasses are made of pure copper that has a distinctive reddish-brown colour and natural shine.

Capacity: The 350 ML capacity is an ideal choice. It is best for serving various beverages, including juice, water or cocktails.

Design: They are available in simple as well as intricate designs. This gives the option to buyers of having a simple or designed copper glass.

Lining: Some copper glasses also have a stainless steel lining inside to avoid mixing drinks with copper and retain the actual taste.

Handle: Some copper glasses have handles on them which makes them more comfortable to use. One can easily hold and serve hot beverages using the handles.


What are the Benefits of Copper Glasses?
Copper glasses are more than just visual charm as they are associated with several potential health benefits.

Temperature Regulation
Copper is an excellent conductor of heat and helps in maintaining the temperature of beverages by keeping them warmer or cooler for longer periods.

Antibacterial Properties
Copper has natural antibacterial properties that help in keeping the glass clean and free from any harmful microorganisms.

Aids Digestion
Drinking water from a copper glass first thing in the morning is believed to stimulate peristalsis and promote cleansing of the digestive system.

Alkaline Water
Copper can alkalis the stored water in the glass which has potential health benefits as it maintains the body's pH balance.

Boosts Immunity
Regular consumption of water from copper glass can increase the immunity of the body and overall wellness.


The Significance of Copper Glass Manufacturers
350 ML Copper glass manufacturersplay an instrumental role in preserving the art and tradition of crafting these unique vessels. They have several crucial responsibilities.

Material selection:It is important for copper glass manufacturers to carefully select high-quality copper. This ensures that the vessels are not only visually appealing but are also durable and safe to use.

Craftsmanship: They also employ skilled artisans with years of experience to create these glasses. They use traditional techniques and sometimes in corporate modern design elements.

Quality control:350 ML Copper glass manufacturersalso maintain rigorous quality control standards that ensure each glass meets the required safety and quality specifications.

Customisation: Many copper glass manufacturers also offer customisation options. This allows the clients to select specific designs, sizes and finishes that meet their preferences.

Export and Distribution: 350 ML copper glass manufacturers have a significant role to play in exporting these exquisite copper glasses across the globe. Their reach to international markets makes these glasses accessible to a global audience.

In conclusion, a 350 ML copper glass is more than just a vessel. It has potential health benefits and aesthetic appeal that have secured it a special place in the world of beverage services. 350 ML Copper glass manufacturershave also contributed to this and during popularity by keeping the tradition and art of making these glasses alive and meeting the demands of a modern global market.