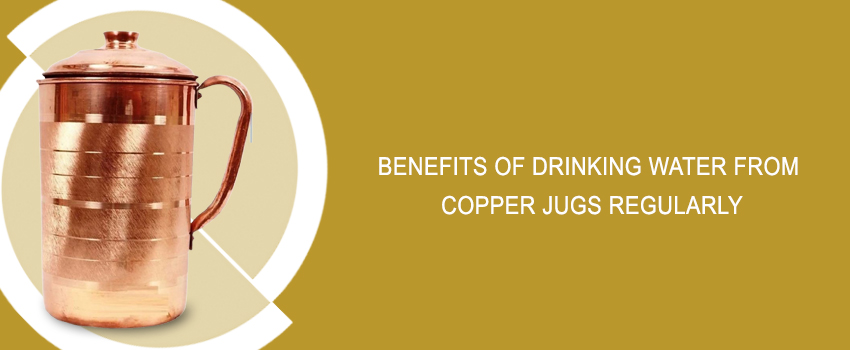 Your body contains the mineral copper. Your body needs a tiny quantity of this vitamin to operate effectively. You should avoid other heavy metals including lead, mercury, and arsenic. However, obtaining copper at minuscule levels is crucial. Let's talk about the benefits of copper supplied by the copper jug exporters in detail
Improves Brain Health
Enzymes that turn on the brain's neurotransmitters frequently contain copper as one of its essential components. According to recent studies, healthy copper levels are crucial for brain function. Twenty percent of the oxygen you breathe in goes to the brain.
An imbalance in copper levels is frequently connected to neurodegeneration in adults. Additionally, difficulty focusing and low mood are two signs of copper deficiency.
Aids Digestion:
According to Ayurveda, consuming "Tamra Jal" purifies and detoxifies the stomach. Additionally, copper possesses qualities that promote improved digestion by reducing stomach lining discomfort, promoting peristalsis, or the repetitive expansion and contraction of the stomach lining. Stomach diseases, acidity, and ulcers respond well to copper treatment.
Controls Ageing:
Many copper-based cosmetics were utilized in ancient Egypt. Since copper is not only an antioxidant but also contributes to cell regeneration, countering the damaging effects of free radicals on the skin, and aiding in the prevention of wrinkles and fine lines that come with ageing, many skincare products on the market today include copper.
Improves Bone And Joint Health
Low copper levels can cause osteoporosis because they lower bone mineral density. Additionally, it affects the health of collagen, a vital part of our bodies' structural framework. Collagen loss brought on by a lack of copper can eventually result in joint dysfunction.
Develop Your Immunity
As was previously mentioned, iron and copper both contribute to the creation of red blood cells. This increases your resistance. A decreased number of white blood cells, or neutropenia, can result from a copper deficiency; according to a study, this condition can make one more susceptible to illness.
Infants require adequate copper levels more than anybody else since these impacts are more obvious in them.
Facilitates Metabolism
Over 50 enzymatic processes that occur every day in your body are supported by copper. This promotes a sound metabolism. The mineral also contributes to the production of ATP, or adenosine triphosphate, the body's main energy source. Because of this, a copper deficit can cause slow metabolism.
Contributes To Healthy Development And Growth
Unfortunately, copper deficiency is fairly prevalent in third-world nations and is especially evident in children, who experience stunted growth and other developmental problems. This is because a copper deficit can damage the formation of bones, joints, and even the developing brain.
Additionally, copper is necessary for the oxygenation of red blood cells; hence, insufficient levels of the mineral may result in inadequate oxygenation of your organs. Problems in the development of brain function, and metabolism result from this. According to studies, newborns' growth might also be slowed down by a copper shortage.
Final Words
Despite the numerous advantages of copper supplied by copper jug exporters, they are not frequently discussed. This trace mineral may do wonders for your body, improving immunity, bone health, and brain function as well as metabolism and premature ageing. What's more, it contributes to thyroid health by avoiding diseases like hypo and hyperthyroidism.